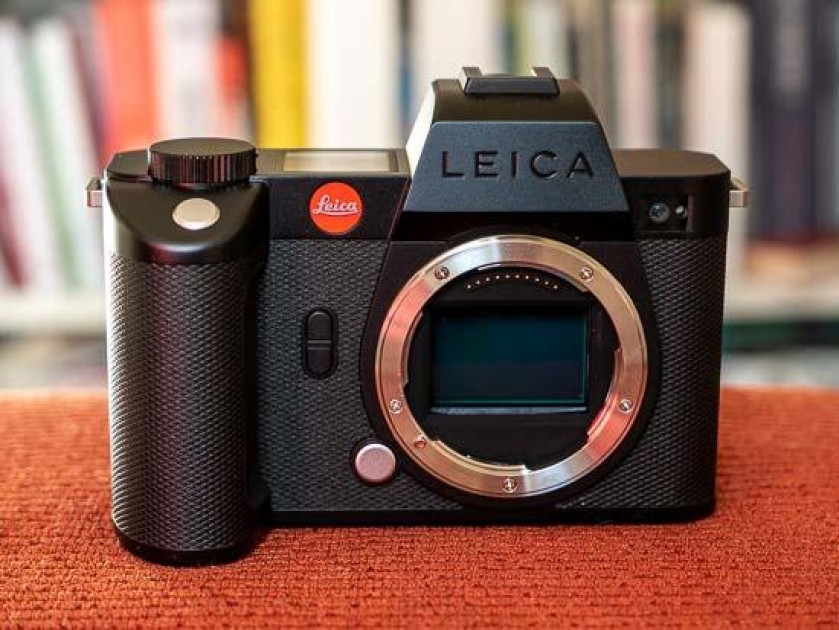 Introduction
The Leica SL2-S is a 35mm full-frame mirrorless camera designed to appeal to both stills photographers and videographers.
It features a 24.6 megapixel full-frame (24x36mm) BSI CMOS sensor with no optical low pass filter, the latest Leica Maestro III series processor and unlimited DCI and UHD 4K/60p 10-bit 4:2:2 video recording.
There's also an electronic viewfinder with a resolution of 5.76 megapixels, 120fps refresh rate and 0.78x magnification, and a 3.2-inch LCD screen with 2.1 megapixels and touchscreen control.
The SL2S additionally offers a IPS4-rated weather-sealed magnesium-alloy construction, in-body image stabilisation worth 5.5 stops of compensation, a continuous shooting rate of up to 25fps using the electronic shutter, a 96 megapixel multi-shot mode, built-in wi-fi, NFC and GPS connectivity, a highest ISO setting of 100,000 and dual UHS-II SD memory card slots.
The Leica SL2-S is available now priced at £3,975 / $4,895 body only in the UK and US respectively.
Ease of Use
Just over a year ago we reviewed the Leica SL2, a 47 megapixel beast of a camera that majored on out-and-out resolution.
Now the SL2S has arrived for testing, the main change in this model being a big drop in resolution to 24 megapixels, but an accompanying increase in shooting speed and low-light performance.
Leica claims that the "SL2-S is the perfect choice for customers who favour fast operation over the exceptionally high resolution of the Leica SL2" and after using one for a few weeks, we'd be inclined to agree.
Commendably the cheaper SLS-2 is virtually identical to its high-resolution bigger brother, with the exception of the image sensor that it uses, so anyone moving from one camera to the other will feel instantly at home.
The 24.6 megapixel full-frame (24x36mm) BSI CMOS sensor is the main reason for choosing the SL2S in preference to the 47 megapixel SL2.
You may only get roughly half the resolution, but in return the maximum burst shooting speed for both JPEGs and DNG Raw files is increased from 20fps on the SL2 to 25fps on the SL2-S when using the electronic shutter and up to 9 frames per second using the mechanical shutter (the same rate as the SL2).
Furthermore, the continuous shooting buffer has been even more improved. The SL2 would fill its buffer after 78 DNG shots, giving you 4 seconds of shooting, but the SL2-S can take a virtually unlimited burst of full-resolution still images until its 4GB buffer is filled.
Note that on both cameras, though, the AF point and exposure are locked at the first frame, which is rather disappointing when some similarly priced mirrorless cameras can shoot at similar speed with AF/AE. To get continuous focus and exposure, you'll need to drop down to 6fps.
The second benefit of the more modest 24 megapixel sensor is improved low-light performance. As well as increasing the ISO range by one-stop to ISO 100,000 with the same base setting of ISO 50, the SL2-S's back side illuminated (BSI) sensor produces less noise at equivalent ISO settings – if low-light shooting is more important to you than sheer resolution, choose the SL2-S rather than the SL2.
Whilst the SL2's 187 megapixel multishot mode is undoubtedly a great feature for detail-hungry still-life and landscape photographers, the Leica SL2-S can still create a very respectable 96 megapixel image using by combining 8 separate shots, producing a final image equivalent to 12000 x 8000 pixels.
The new sensor also allows the SLS2 to offer improved video recording capabilities compared to the SL2. It offers oversampled 4K/30p 10-bit 4:2:2 quality footage recorded either internally or to an external recorder, with no time limits on the recording time.
In contrast, the SLS-2 shoots sub-sampled video for all of its video modes, which gives the SL2-S a slight edge in the quality department, at least when shooting in 24, 25 and 30p modes.
The SLS-2 can also record in 4K/60p, but it can only do so by using an APS-C crop of the sensor, rather than the full-frame, and only 8-bit 4:2:0 internally, with 10-bit 4:2:2 only available to an external recorder.
Finally on the video front, Leica are planning a firmware update in spring 2021 which will add a swathe of new features to the SL2S, including internal 4K recording with 10 Bit at 60p/50p with the more efficient HEVC h.265 codec, Long-GOP support, automatic follow focus,wave form monitor, colour bar, tally mode and more.
The new firmware will also add a new Autofocus algorithm with improved eye/face/head/body recognition and focus tracking, an important upgrade given that the SL2-S's contrast based AF system with depth mapping, which in practice isn't the best.
Indeed, it strongly reminds us of Panasonic's Depth-from-Defocus system on their L-Mount S-range of cameras, which somewhat suspiciously also underwent a recent firmware upgrade to improve its autofocusing speed.
As it stands, the SL2-S's autofocusing is fast enough in good light, but struggles in low light, just like Panasonic's used to do – at least there's a similar update on the way to help improve what is undoubtedly one of the weaker points of the SL2-S.
The Leica SL2S is another incredibly solid, black-bodied camera, equipped with Leica's L-mount, thus enabling around 150 different lenses to be utilised if you invest in specific adapters.
It has to be said upfront that the SL2-S is not the most portable option ever. In fact, used in tandem with the Leica APO-Summicron-SL 75mm f/2 ASPH prime lens that Leica UK sent us for review, the SL2S feels like it weighs a ton.
This is partly because it's been fashioned from two solid pieces of aluminium with a central magnesium alloy portion sandwiched in its midst – so we were very thankful for the padded strap that also came with our review sample.
While the rock-solid build quality is very reassuring, it's possibly not the ideal travel camera for lugging around for an entire day on a city break, especially with a bag full of L-mount lenses as well.
Given the heft of this camera, it's perhaps not surprising that the handgrip has been subtly remodeled since the release of the original Leica SL and, the suggestion is, made more comfortable thanks to it being coated in 'elastomer' material.
While it isn't moulded to our fingers like the grip on a DSLR might be, thereby making it easier to balance out the weight if we've a big lens on the front, on the SL2-S it's certainly big enough to wrap our full four fingers around, while the thumb automatically brushes up against the control dial – or as Leica refers to it, 'click wheel' – peeking out at the back.
If you're looking for a shooting mode dial, then you may be somewhat confused, because the SL2-S doesn't have one. Instead you have to press the click wheel in and then scroll through the usual PASM options to change the shooting mode.
The Leica SL2-S has exactly the same pared-back ergonomics as the SL2, so we get the same simplified three button layout to the left of the LCD on backplate, which is preferable to the thin unmarked strips that stood for controls on the even more minimalist original SL model.
At least here, then, we're not always prodding around in the dark trying to find the functionality we crave, though a dedicated delete button and a 'back' button to jump back to prior settings on occasion may have improved the overall user-friendliness.
All this being said, the SL2-S does provide the accessibility of a touch screen – so, when in doubt, a tap of the LCD is another operational option.
We're told that the SL2S is both dust and water resistant, to the extent that it can apparently withstand water spray from every direction. So while it's OK to use in the drizzle, we probably wouldn't risk dunking it in the pond.
Though we've questioned the sheer heft of the camera, the robustness of the build quality is so reassuringly solid that, providing the internal electronics hold up, the SL2-S could surely last years of use – which we'd certainly want it to at this price.
The fact that the SL2-S features a large postage stamp sized top-plate status display window is a real plus in operation. It's really helpful in not being distracted by having to otherwise refer back to the larger screen at the rear of the camera, and thus take your eye off your subject for even longer.
The rest of the Leica SL2S's top plate is fairly conventional, with a familiarly raised viewfinder-housing mid section also finding space for a vacant hot shoe, as well as integral stereo microphones positioned just in front.
We additionally get a bottle-top style control wheel and a springy shutter release button located on the forward slope of its handgrip, where it automatically falls under you right forefinger.
Located just behind the mode wheel are two unmarked function buttons – presumably giving them markings would have interrupted the minimalist appearance of the top plate.
On our review sample the left one here was set to quickly switch between the dedicated photo and video modes, while the right button was set to call up the ISO speed options.
Here we get the choice of fully auto ISO (pretty accurate too), and then a very capable light sensitivity range stretching from ISO 50 up to ISO 100000, one stop better than the higher-resolution SL2.
The only writing here is the camera model name etched into the rim of the hotshoe, now blacked-out rather than a bright white as on the SL2.
Of course we get the familiar red Leica logo at the front, plus an additional bold 'Leica' etched in capitals above the lens mount, although that has also been changed from a rather conspicuous white to a much more subtle all-black lettering on this model.
The back of the camera, while featuring three marked buttons for 'Play', 'Menu' and 'Fn' (function) is otherwise very clean looking.
Rather than placing it on the top plate, as with most cameras, here the main on/off button is located out of harm's way at the top left of the backplate, where, presumably, there is less chance of it being accidentally activated by a stray finger or thumb.
While your right hand encircles the handgrip on this camera, your left naturally moves forward to support the lens.
The Leica SL2-S's large and clear 3.2-inch back-lit LCD screen sits slightly off centre to the left, with a bezel design that causes it to stand slightly proud of the camera's surface and suggest, to the untrained eye, that it might tilt or be adjustable in some way.
But no, the LCD here is resolutely fixed and conventional in that sense. While this monitor can be used for composing and of course reviewing images, we more naturally found ourselves using the outstanding electronic viewfinder ranged directly above it.
Usefully, Leica has also provided a thumb wheel top right of the camera back, with a slightly roughened surface to the front and the right side rear of the camera preventing slippage – although the sheer heft of the camera also helps prevent any wobble in the hand (incidentally there is five axis body integral image stabilisation built in here, equivalent to 5.5 stops).
There are a further two unmarked function buttons on the camera back. One is a function button for switching between the 2.1 million dot resolution LCD and whopping 5.76 million dot EVF, while the other is more of a toggle lever or mini joystick, which can be used for navigating and selecting on-screen menu settings, or jumping from one captured image to the next.
A quicker way to do this, however, is simply to swipe through shots with a finger, like we'd do on a mobile phone or smart device. Indeed, Leica has said it has attempted to make the SL2-S's screen as responsive as that of an iPhone,and while we wouldn't go quite that far, it is refreshingly responsive in use compared to most digital cameras.
Switch the camera on and you'll find the Leica SL2 is as responsive as any DSLR or equivalent mirrorless camera, with either the rear screen or the eye level viewfinder quickly bursting into life, dependent on how you've got the camera set up. We were shooting JPEG in tandem with Leica's Raw equivalent DNG files.
Half squeeze the shutter release button and the AF point immediately illuminates in green to signify the nearest subject is in focus. Obviously there is the opportunity to change this mode and shoot manually with this camera, but to be honest we found the Leica's AF so reliable – even when confronted with fairly busy scenes and subject matter – that there's barely the need.
The right of the camera, if viewing it from the back is where we find a compartment housing not one but two SD UHS-II card slots, which is again another way of the SL2S showing its professional mettle.
In operation, we also liked the fact that the electronic viewfinder, here with diopter adjustment markings, juts out sufficiently proud of the body with a rubber cushioned eye relief to avoid our nose scrunching up against the rear LCD screen. With the camera held to our right eye it just misses it, though doesn't quite clear the left hand edge of the camera.
Operationally, the Leica SL2-S's onscreen menus are clearly laid out across either 5 or six screens depending on whether you have the camera in video (5 screens) or stills (6) shooting modes. With an initial press of the menu button we are provided with a full screen's worth of essential settings at a glance, with a visible tab sitting behind, displaying either Photo or Video. A simple on-screen finger taps alternates between them.
Video recording starts with a full press of the shutter release button, with AF able to be adjusted mid recording if required with a gentle half press of the shutter release; obviously if you press too hard then the video stops recording. Video footage, partly thanks to a decent lens as well as sensor, looks stunning.
The HDMI output and a USB port are well hidden under moulded rubber flaps at the left hand side on the SL2-S camera itself. There are further ports for plugging in an external microphone and also a port for a headset to monitor sound with, although the internal microphones should be sufficient for most non-professional usage.
Battery life via the chunky lithium-ion rechargeable pack secreted away at the camera base is good for 510 shots, according to CIPA standard, which, while much less than a professional DSLR you could otherwise buy for this outlay, is pretty good for a mirrorless camera. Re-charging time from spent to fully charged is quoted as 140 minutes.