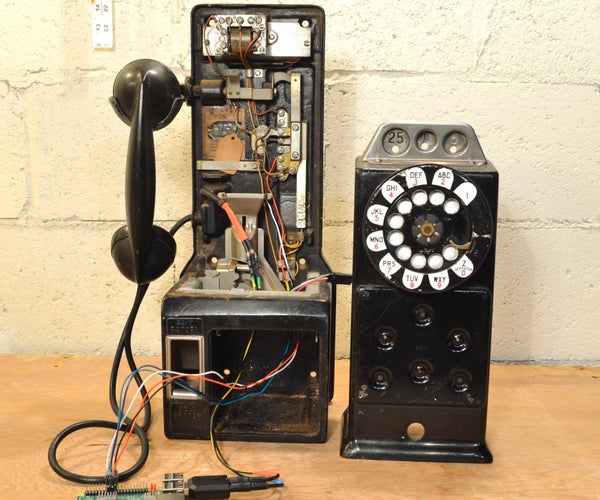 The Gadget Master in question is one dsluder13 and he's used a Raspberry Pi Model 3B to make the Bluetooth-Connected Rotary Payphone, or the "The World's Most Impractical Bluetooth Headset" as he dubs it. (I know it was the the 50s, but it's like something from another world – a reminder we're all getting older…)
The goals he set himself included being able to pair his phone with the payphone, use the mobile to both listen to the audio of the call and transmit his voice and to be able to dial a number and make a call. He also wanted, of course, to be able answer and hang up active calls.
As well as the Pi and its peripherals, other parts needed included some cheap headphones with a built-in microphone, male-to-male audio cable, some 4.7K resistors and some heat shrink tubing. Two USB plugins were Stereo Sound Adapter and a Bluetooth Dongle.
The project is fully documented on the excellent Instructables website. Across 13 steps, it begins with initial steps and dealing with the dialing mechanism circuit and finishes with a Dialer Python Script and service setup, and testing the newly modified headset.
He writes, in Step 2 ("Hack the Dialing Mechanism"):
"I love that old phones are totally analog – you won't see a PCB in sight. They're packed with switches, resistors, transformers, and that is IT. That makes hacking it relatively simple. The thought process for this step is that we need to see what connections are available to use for us to feed into the Raspberry Pi so that it can know what number is being dialed."
Read more about the work involved. The project had a long gestation, he explains (before the Raspberry Pi 3B existed) but the results are worth checking out.
(Note: he ended up using the 20 August 2020 release of the Raspberry Pi OS (desktop distribution), as he had issues with getting more recent releases to work easily (December 2020 OS Lite distro), he flags.)
The future
It's an impressive body of work – for the wiring issues alone, let alone anything on the software side – but there are still some goals he wants to achieve on the horizon.
The next steps could involve, for example, making the payphone light up and be more interactive. Or generate a dial tone when you pick up the handset to make it sound authentic…
Image: Instructables/dsluder13